Glass Staircase Railing‌ System
Transform Your Staircase into a Captivating Work of Art with Artlook Glass, Where Impeccable Craftsmanship and Elegant Designs Merge to Create Unforgettable Glass Railings.
---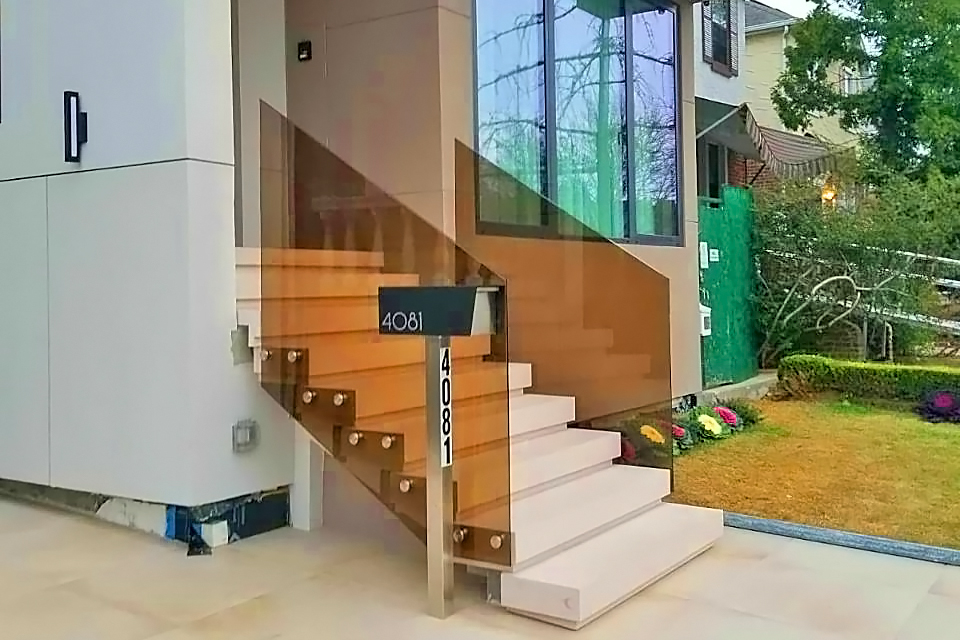 Glass Staircase Railing‌ System
1
Stylish Appeal: Glass partitions for stairs add a contemporary and elegant touch, enhancing the visual appeal of your staircase with their sleek design.
2
Abundant Natural Light: With glass partitions, natural light flows freely, creating a bright and inviting atmosphere, and reducing the need for artificial lighting.
3
Safety and Security: Despite their delicate appearance, glass partitions are made with toughened glass, providing durability and shatter-resistance, ensuring both safety and peace of mind.
---
Tap to view more information
GLASS
The system is suitable for ¼'' or 3/16'' glass. Custom options are available upon request
---
SYSTEM CONFIGURATION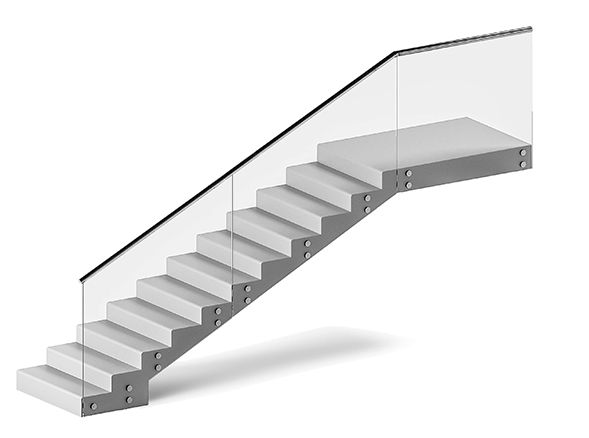 1
Point-supported railing system
2
Glass railing system on tall posts
3
Glass railing systems on a shoe track
4
Glass railing system on a mini-posts
---
FOR OUR PARTNERS WE PROVIDE:
Loyalty Program
We have created an affiliate loyalty program, through which regular customers can receive special offers and discounts. Cooperation with us is all good and efficient.
Personal manager
You have to pay for any work - and it's completely understandable. For this reason, we have developed a loyalty program for partners with special commercial offers and conditions.
Product samples
We will prepare all the materials required for the project: catalogs, samples of glass and fittings.
Unique projects
We are happy to undertake the most complex projects and innovative design solutions. If you can't find a product you need, please contact us and we will create it especially for you!
---
Why us?
Welcome to Artlook Glass, where elegance and safety converge to create stunning glass railings for staircases. We are proud to be your premier destination for bespoke glass railing solutions, offering unrivaled craftsmanship and a touch of artistic finesse.
At Artlook Glass, we understand that your staircase is more than just a functional element of your home or commercial space; it is a statement of style and sophistication. That's why we meticulously design and manufacture each glass railing with meticulous attention to detail, ensuring that it complements your unique aesthetic vision.
Our team of highly skilled artisans and engineers combines innovative techniques with the finest quality materials to bring your staircase to life. Whether you prefer a sleek and modern design or a more classic and ornate look, we have the expertise to transform your ideas into reality.
Safety is paramount to us, which is why all our glass railings are engineered to meet and exceed industry standards. We use tempered and laminated glass that is exceptionally durable, providing a secure barrier without compromising on transparency or beauty. With Artlook Glass, you can have peace of mind knowing that your staircase is not only visually stunning but also a safe space for you and your loved ones.
What sets us apart is our commitment to customization. We believe that every staircase is unique, and your glass railing should reflect that. Our team works closely with you, taking into account your preferences, architectural nuances, and spatial constraints to create a tailor-made solution that harmonizes seamlessly with your surroundings.
From residential projects to commercial ventures, Artlook Glass has garnered a reputation for excellence. Our portfolio boasts a diverse range of installations, from grand staircases in luxurious homes to modern office spaces with minimalist designs. No project is too big or too small for us; we approach each one with the same passion and dedication, ensuring impeccable results every time.
Discover the transformative power of glass railings for your staircase with Artlook Glass. Explore our gallery for inspiration, and let us guide you through the design process. With our expertise, unparalleled craftsmanship, and a commitment to customer satisfaction, we promise to exceed your expectations and elevate your space to new heights of elegance.
Experience the artistry of glass railings with Artlook Glass today. Contact us to schedule a consultation, and let our team turn your staircase into a masterpiece of beauty and safety.